Arrival Notice (Notice of Arrival)

In sea freight, an Arrival Notice (Notice of Arrival) is a shipping document that international cargo recipients (consignees) are always waiting to make sure that shipping goods arrive in the destination country is the time to begin working on incoming import recovery.
Arrival notices are prepared and issued by ocean freight carriers' agents. Arrival notices are addressed to consignees and notify parties (if any). It informs that exporting from the U.S. goods are arriving and provides the arriving cargo details. It should also provide a list of necessary shipping documents that are necessary for customs clearance.
And that's what everyone is concerned about. Arrival notices list destination charges.
International freight shippers should always keep in mind that all international freight is subject to destination charges. Destination charges (sometimes called local charges) occur at the destinations. Therefore destination charges are not considered freight charges. The charges are never included in freight quotes unless negotiated in advance. All destination charges are on account of the consignee.

If you ship goods from the USA overseas, no matter whether you're shipping commercial freight or household good, or items for personal use, before getting your shipping goods at the destination, your consignee (cargo recipient) must pay destination charges. Typically the charges include but are not limited by:
Destination Country Government (Customs) related charges, i.e., duty and taxes (if any), harbor fees, fee on entry filed by a destination customs broker, etc.;

Destination terminal(s) handling charges (THC) and other charges and fees related to cargo de-consolidation and storage at the destination;

'Door delivery' charges (if consignee requests a 'door delivery').
As a rule, an arrival notice will be emailed in a file attached. To avoid fraud, remember that a random email is not enough. Ocean freight carriers may email your consignee some notifications that goods that are shipping from the USA are coming to the destination. That's OK.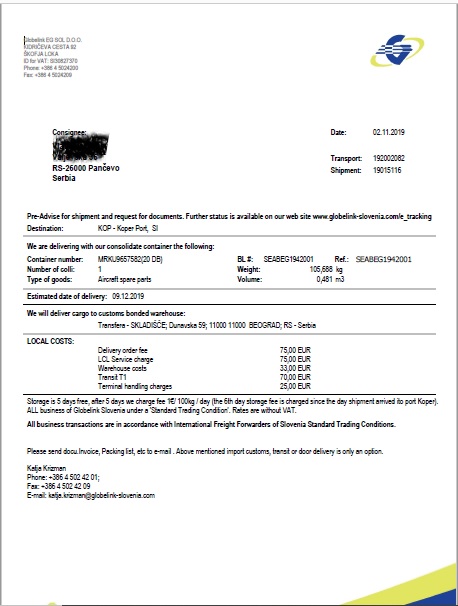 However, your cargo recipient has to insist on a legal arrival notice that has to look officially and contains:
The destination agent's letterhead with an address and contact information,

Cargo details,

Cargo location address and contact information, if different from above,

LOT number associated with the cargo location or other references(s) related to the cargo identification,

Brief instruction on the cargo recovery (required shipping documents, cargo recovery procedures, etc.),

The destination charges breakdown.
Keep in mind that an arrival notice is NOT a freight release document. An arrival notice just informs the consignee about how to initiate the recovery of importing goods.
Typically an international Ocean freight carrier's agent is the one point of contact in your cargo recovery. They should do for you all the jobs related to your import recovery and charge you for the job on top of other applicable charges. Please respect the agent's job. They do their best to recover your importing goods ASAP and get the cargo release for you.
However, sometimes, you will need to deal with other parties. Here are the typical parties involved in the recovery of importing goods:
A consignee (in respect of import recoveries called Importer of Records),

Destination's country officials (Destination country's Customs, Government agencies that may concern with imported goods, border protection officers, etc.),

An international ocean freight carrier's agent,

Destination country freight terminals representatives,

A customs broker, importer of records works on import entree independently,

Other parties that may be involved in the import recovery and delivery: are domestic freight forwarders, bonded and local warehouses, local cartage companies, etc.
Most of the time, import recoveries in ocean freight are just ordinary routing processes. However, sometimes, it may become a complex, time, and money-sensitive issue. If you face a problem in the recovery of importing goods, then the first you should do is search for assistance from a licensed in your destination country's customs broker.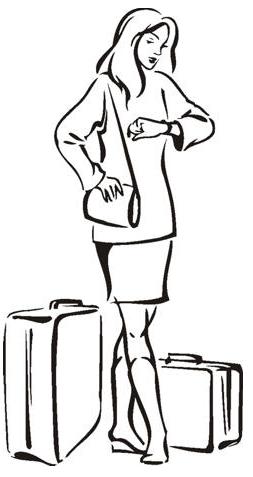 Always wait for and do not miss an arrival notice!
Most of the time, an arrival notice on your goods shopping from the USA should be issued several days before your goods will be entered into the commerce zone of your destination country. You should have time to prepare everything for the import recovery.
An arrival notice should be emailed or faxed to the consignee and notify party (if any). Your consignee should expect an arrival notice several days before the estimated day of arrival (ETA) for shipping from the USA goods. Do not miss the arrival notice! Upon receipt, begin working on it ASAP. Contact the ocean freight carrier's agent that is on the arrival notice without delay. Do not let it go out of your control. Remember, import recoveries are time-sensitive!
If, for any reason, you did not receive an arrival notice as expected, then contact the international ocean freight carrier's destination agent on the ETD. The agent's contact information is in your
Sea freight Bill of Lading
.
However, please keep in mind that the agent may be notified about the incoming goods in a very few days before the ETD. If you'd like to contact them in advance, do not be frustrated that they are not updated on your shipping goods. Just send them a copy of your bill of lading, ensure that everything is in order, leave them your contact information, and wait for their arrival notice.

DO NOT IGNORE OR DELAY WITH IMPORT RECOVERY

You decided to ship goods from the USA overseas. Then keep in mind that as soon as your goods exit the U.S. Commerce zone, the U.S. laws do not apply to your freight. Neither U.S. freight forwarder nor ocean freight carrier will be able to manage your import recovery overseas. The ocean freight carrier's destination agent should guide you in the import recovery procedures. However, the agent is not a U.S. business. No one but your consignee can be aware of and work on issues that may arise and result in problems with your importing from the USA goods.

When shipping from the U.S. freight LCL, most of the time, you do not need a customs broker on the cargo recovery at the destination. Carrier's destination agent is a customs broker as well. However, if problems occur, the first step you should do is search for an independent licensed in the destination country customs broker.

If for any reason, you face a problem in the recovery of your U.S. import at the destination, we'd suggest:
If the ocean freight carrier's destination agent does not contact you on/in a few days before ETA (Estimated day of Arrival), do not wait and contact them first. The contact information is in your bill of lading.

Keep your eyes on your junk email folder. Do not miss an important email from the agent. However, always request an Arrival Notice in a legal format. It must be dated, contain the agent's letterhead, destination charges breakdown, etc. Phone calls or random emails are not enough.

Respect the agent's business. Pay extreme attention to the information received from the agent, and follow the provided instructions. The agent's business is to have your goods released to the consignee ASAP. Pay destination charges and fees (sometimes called Local Charges) and possess your goods.

If you experience problems with your import recovery, do not hesitate to contact us. But please understand that if you cannot provide a copy of your arrival notice, we are most likely unable to work with an ocean freight carrier on your behalf. We will always need a copy of your arrival notice to track your shipping goods at the destination.
ALWAYS REMEMBER! IMPORT RECOVERIES ARE TIME SENSITIVE! As quickly as you begin working on it is less probably that you will get the deadline penalties: storage, demurrage, Customs penalties, etc.