Self-delivery or Pickup?
When calculating a shipping cost to deliver your goods from the USA overseas, you have options: either self-deliver your cargo to a freight terminal or request to pick up (collect) your packed goods at your cargo location.
There is a significant difference in shipping procedures, depending on the option selected.
The online calculator provides three options. At a time of quoting-booking, you select the option that fits your international shipping needs best. Here are the options:
Self-deliver cargo directly to an ocean freight carrier's terminal (CFS). This is the most cost-effective way to ship goods from the USA overseas.

Self-deliver cargo to the nearest U.S. domestic cargo transportation freight terminal to line haul the cargo to a CFS located within the United States. Typically that will be a U.S. domestic LTL freight carrier's terminal.

Request a pickup of packed shipping goods from a cargo location to a freight terminal for further international shipping.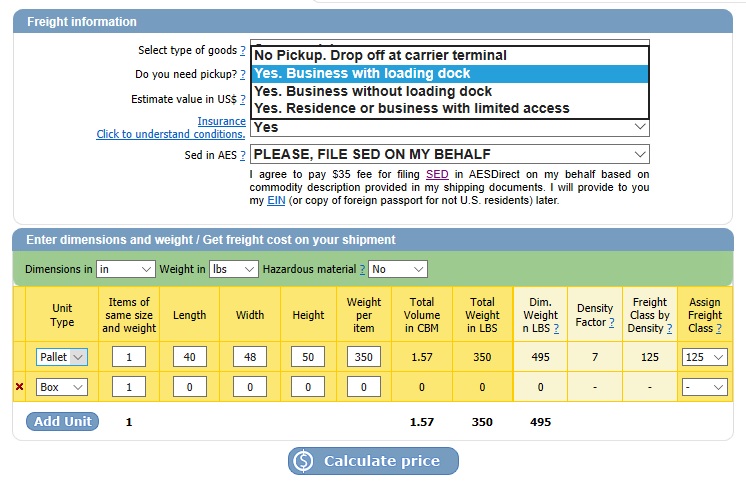 The First Option. Delivery at CFS.
You deliver your packed goods to the nearest ocean freight carrier terminal. Such terminals are called Container Freight Station or CFS.
In our online freight calculator, CFSs are listed in the upper case and highlighted. CHICAGO, IL, for example.
By delivering cargo to CFS, you submit your goods directly to an ocean freight carrier. Your shipping goods will be handled by a single carrier. Ocean freight rates should be calculated by cubic meters or cubic feet, and the rest of your shipment, till it arrives at the place of delivery designated in your bill of lading, will be under the supervision of a single carrier.
Goods delivered at CFS in shipping boxes or other smaller shipping items can be properly palletized by the CFS on certified pallets.
Self-delivery cargo to a CFS is the most cost-effective to ship goods from the U.S. overseas.
The Second Option. Delivery at Line Haul.
If CFS is too far away from you, you can deliver your goods properly packed for transportation from the USA abroad to the nearest U.S. domestic LTL carrier's freight terminal for the cargo transportation from the terminal to a CFS.
We call such terminals Linhe Haul terminals. Our online freight calculator line haul terminal is in lowercase with asterisks (*) — Denver, CO*, for example.
If you deliver cargo to a line haul terminal, then a line haul charge will be added on top of ocean freight. Freight rates in U.S. domestic ground cargo transportation are calculating per kilo or lbs. The LTL freight rates also depend on Freight Class and U.S. National Motor Freight Classification (NMFC). Freight rates for moving goods from a line haul terminal to CFS calculates based on the dimensional weight of cargo.
Typically line haul terminals temporarily palletize cargo for easy transportation at no charge. However, they never following ISPM15 rules since U.S. domestic cargo transportation does not regulate by these rules. Occasionally, line haul terminals may ask to pay a small fee to palletize shipping goods. You should pay the fee directly at the terminals.
The third option. Pickup (Collection).
You can also select a pickup. You should specify the type of cargo location. Either it is a warehouse or a small business premises, or a residential address.
With this option, depending on how far your cargo from the nearest freight terminal, your goods will be transported either to a CFS or a line haul freight terminal for the line further transfer to a CFS.
Freight rates with pickups, the same as with line haul based on the dimensional weight of shipping goods.
In our business, we typically schedule pickups with LTL cargo transportation companies. LTL freight is mostly designed for cargo transportation between cargo warehouses with loading docks. If there is no loading dock, you should read about some limitations in pickups at small business premises and residential addresses.