IMO Dangerous Goods Declaration
In international cargo transportation from the USA, the term Dangerous Goods (DG) is similar to shipping Hazardous Materials (HAZMAT) in other cargo transportation modes.
In sea freight shipping, dangerous goods are always separated from regular commodity and accompanied by a Dangerous Goods Declaration.
A Dangerous Goods Declaration in shipping freight from the USA is a document that must be provided by a shipper to the ocean freight carrier before dangerous goods can be approved for international shipping. It certifies that the dangerous goods are properly packed, labeled, and comply with standards of international cargo transportation by sea. You can look at examples of the Dangerous Goods Declaration used in shipping cargo from the USA by the sea online. That's about what this document looks like.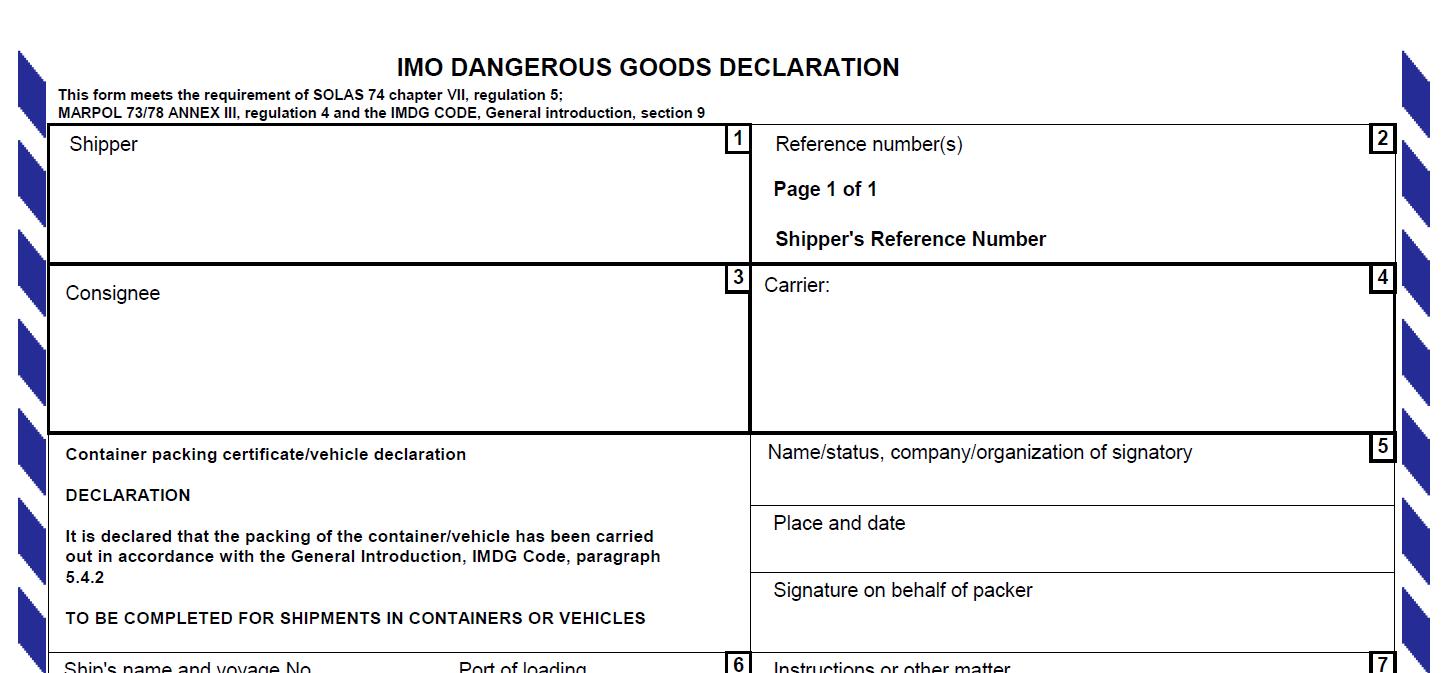 International shippers are responsible for identifying whether their cargo contains dangerous goods or not. If it contains, then the filling and providing Dangerous Goods Declarations for shipping dangerous goods from the USA overseas are the shippers' responsibilities.
If you are a beginner in shipping goods from the USA overseas, then we encourage you to take the regulations on shipping dangerous goods seriously. If your shipment contains dangerous goods, even a not significant part of the total volume of your cargo, then you must declare the goods in the Dangerous Goods Declaration anyway. Failure to do so could result in hazardous conditions for the entire voyage. Then it will result in administrative fines or even criminal charges under applicable laws.
For example, you're shipping from the U.S. an electric bike. Then you must either remove the battery or fill the Dangerous Goods Declaration.
When shipping cargo overseas, you have to identify either the cargo contains dangerous goods or not. I.e., whether the shipment includes aerosol sprays, airbags, ammunition, butane, car batteries, cologne, dry ice, fireworks, gasoline, jet fuel, lighters, lithium batteries, matches, nail polish, nail polish remover, nitrogen-refrigerated liquid, paint, perfume, solvents, some chemicals, etc. If you're shipping from the USA new items in the factory packaging, then pay attention to hazardous signs on it.
If you are unsure whether your commodity meets the criteria in shipping dangerous goods from the USA or which identification of hazardous goods and classification applies to your international shipment, then you can contact the U.S. Department of Transportation at 1-800-467-4922. You can also contact the manufacturer of shipping goods to identify whether your international shipment contains dangerous goods or not. If yes, then ask from them the information necessary for your Dangerous Goods Declaration preparation.
When shipping dangerous goods from the USA by sea, sea freight carriers will NOT approve dangerous goods shipping other than IMO Classes 3, 8 & 9. If you ship dangerous goods other than classes 3, 8 & 9, you have to search for ocean freight carriers with special equipment used to transport dangerous goods of particular classes.
Segregation of dangerous goods shipping from the USA / A hold harmless letter.
When transporting dangerous goods, many of them are incompatible with other substances. They may react with other dangerous goods or chemicals or even with apparently harmless substances, such as dust, air, or water, during transportation. Dangerous goods can easily come into contact with incompatible substances through spillage or leakage and may liberate toxic gases or cause a fire or an explosion. It is the legal requirement that dangerous goods not compatible with other substances are stored and handled separately. So that a loss of containment or interaction cannot cause a serious incident. This can be achieved by the use of an impervious barrier or a suitable separation distance.
If dangerous goods prior/during the shipping from the USA have to be segregated by the carrier, then the shipper must furnish a hold harmless letter under the consigner's letterhead.
The hold harmless letter must state that:
The ocean freight carrier and other parties involved in the segregation will not be responsible for any damages, loss of cargo, etc., when the ocean freight carrier/warehouse does the segregation.

Instructions on what is to be segregated and

The international shipper guarantees to pay to the ocean freight carrier segregation charges.