Shipping commercial cargo from the USA overseas
This online LCL freight calculator is designed for shipping from the United States cargo in boxes, in crates, or on pallets. It makes pricing easy without waiting for price quotes.
You calculate instant quotes for your international shipping from the USA online, in real-time. Then you can book a shipment right away and have shipping instructions ready within 24 business hours. Otherwise, you can keep the price quote for further consideration or compare other offers related to transporting your goods from the United States.
Watch three minutes video about how the freight calculator works.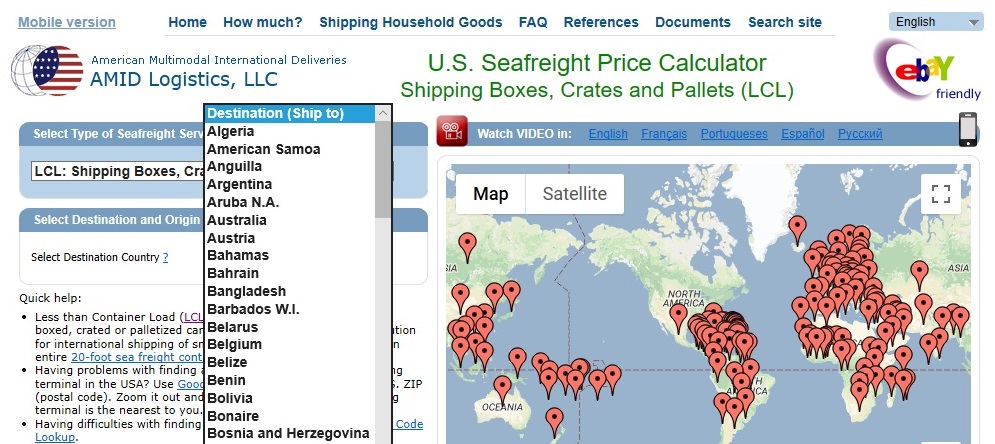 LCL freight is a cost-effective solution for shipping aboard relatively large cargo.
If you are in the USA and need to ship an order overseas, then with LCL shipping, you reduce transportation costs in your operational expenses.

If you manage U.S. orders from overseas, you control the orders deliveries regardless of your location.
Being involved in international trade, you always need a reliable tool to connect sellers and buyers in different countries. If you are on the U.S. market, just bookmark the website and concentrate on your international trade. Having a deal, you deliver sold or purchased goods without involving anyone in international cargo transportation in your business.
Operating your order deliveries with the freight calculator is easy. However, if you are not yet a guru in shipping goods overseas, LCL, there are some instructions and suggestions for you. It should be appropriate for shipping goods from the USA with our online freight calculator and sending orders overseas regardless of the country you are dealing with. You may also read this step-by-step guide for shipping goods from the U.S. LCL with our real-time freight calculator.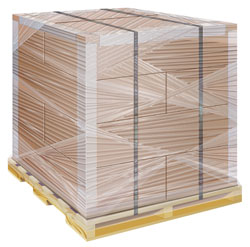 1. Ensure that all your shipping goods are properly packed.
If you ship an order from the USA overseas LCL, all your goods must be packed in cardboard boxes, crated or stored on pallets, and shrink-wrapped. The best way to ship goods overseas is to ship them in the original manufacturer packing.
If you are not in the U.S. and order goods from a U.S. seller, then at the time of dealing with the U.S. seller, ensure that they will properly pack your foods for international transportation overseas. Then clarify, easer they offer delivery orders within the USA or not.
Whenever your order contains more than 3-5 boxes, it has to be palletized. You can palletize it at your warehouse. Otherwise, the ocean freight carrier terminal (CFS) will palletize your shipping boxes at the CFS for a fee of $35-50 per pallet. You may find more about palletizing goods sipping from the USA on our website.
If your shipping order contains dangerous goods, before you purchase such items for further shipping fro the USA aboard, request the seller to provide you with the U.S. Dangerous Goods Declaration in proper form. Otherwise, please do not buy it. It cannot be shipped overseas.
Stay away from shipping from the USA any prohibited commodity. If you are unsure about the legality of shipping goods, double-check it with the U.S. and your destination country officials.


2. If you requested a pickup, then be prepared to meet the pickup driver and, if necessary, be ready to provide help in loading your cargo into the pickup truck.
If you need to pick up (collect) your order at your business location for further shipping overseas, select a pickup option in our online freight calculator.
Businesses operating with loading docks should expect a regular pickup by an LTL transportation company.
Smaller businesses without loading docks should be aware of some limitations in LTL freight. LTL freight is mostly designed for cargo pickups at commercial facilities with loading docks. There will be only one pickup driver in your pickup. LTL drivers may refuse to handle numerous shipping boxes, saying that they are not movers. You may request a liftgate on a pickup of heavy items. Ordering liftgate pickup trucks are subject to an adding cost of about $100 per pickup and not always available. Therefore, please be prepared for a pickup. You may need to call the LTL company's dispatcher to discuss and conduct your pickup conditions in advance.
Please keep in mind that if, for some reason, your order is not ready for pickup on the scheduled day, then you must call directly to the LTL company dispatcher in advance. Otherwise, an attempt pickup charge may be added to your shipping cost.
When calling, refer to your pickup reference number. It is in our shipping instructions. Get a new pickup reference number. Inform us without delay. No changes in your LTL bill of lading are required. Use the same LTL bill of lading that you received with our shipping instructions.
3. Cargo self-delivered to a Line-Haul terminal may need a temporary palletizing.
If you self-delivered shipping order to a line haul freight terminal for the transfer to an ocean freight carrier's terminal (CFS), and your boxes are not palletized, then you should be prepared to deal with palletizing with the Line-Haul terminal.
Remember that in our online freight calculator, LTL line haul terminals are listed in lowercase with an asterisk (*). Daytona Beach, FL*, for example.
According to our experience, unlike CFSs, LTL line haul terminals are not obligated to palletize cargo. However, typically, they temporarily palletize loose shipping items for further handling by forklifts. But unlike CFS, they do not follow ISPM15 rules. These rules do not apply to U.S. domestic cargo transportation.
Sometimes, a line haul terminal may ask you to palletize boxes or charge a fee to palletize loose boxes. To avoid confusion, before to deliver orders to a line haul terminal, you should call the terminal and discuss the palletizing at the freight terminal in advance. When calling, always provide the LTL bill of lading number. The LTL BOL is attached to our shipping instructions.

4. Timely submit all necessary shipping documents.
When shipping orders from the USA, remember that the rule: "No docs, no ship!" apply to all extorting from the U.S. goods. Cargo cannot be released to the international shipping unless all documents are in order. There are no exceptions.
Cargo delivered at Container Freight Station (CFS) that missing export documents will stay on hold at the CFS till all necessary documentation is submitted. The shipper can take the goods back. However, a CFS's in/out fee will apply on top of storage charges (if any).
Submit all shipping documents before or at the latest on the day of delivery of your order to CFS.
You should not attach any original shipping documents to your cargo. All documents must be sublimed to us in an email in the attached PDF files. Files other than PDF format may be rejected.
Most of the time, you will need to submit only a commercial invoice. It can be a purchase receipt or a copy of the invoice to your customer. The document should list items that you are shipping from the USA abroad and the value of the items in US$.
If you cannot provide a commercial invoice in your international shipping for some reason, you may substitute it with a document called Valued Packing List. It acts as a proforma commercial invoice. Our shipping instructions will contain a web link to submit your valued packing list online. You can see how your valued packing list will look like in this link.
Ocean freight carrier may ask for some additional shipping documents in your international shipping. That could be a copy of a photo ID, tax information, etc. There should not be problems for you in providing such documents.
However, certain countries may require special documents associated with importing goods to a particular country. Before you exporting goods from the USA into a particular country, we suggest contacting the consulate of the country in the USA or officials in the country and find if any restrictions apply to your import. We'd also suggest you consider Intertek.com regarding documents and regulations in your international trade.
Please keep in mind that if the value of your shipping goods exceeds US$2500, then you must submit the U.S. Shippers Export Declaration (SED). If you submitted the Shippers Export Declaration by yourself, then provide the ITN. Otherwise, we will file it on your behalf for a $35 fee. To submit SED on your behalf, we will need from the shipper either EIN (U.S. tax ID) or a copy of the shipper's foreign passport.
Please note that a U.S. freight forwarder's responsibility is to assist a shipper till exporting goods will be entered into the commerce zone of the destination country. In other words, until shipping from the U.S., goods will reach a bonded freight terminal (CFS) in the destination country. All issues related to the recovery of the goods at the destination, including providing all documents required by the destination country customs and other government organizations, are consignees' responsibilities (in respect of dealing with customs professionally called 'Importer of records'). Neither freight forwarder nor ocean freight carrier will be able to assist you in the task.
When ship goods LCL, unlike with FCL, you always have an assigned ocean freight carrier destination agent. Your sea freight bill of lading will contain the contact information of the ocean freight carrier's destination agent. The agent should issue an official arrival notice to your consignee and guide the consignee in the complexity of your import recovery.
5. Ocean freight cannot guarantee transit time.
As a rule, cargo vessels depart from the U.S. and arrive at destinations as scheduled. You may reply to the quote obtained in our online freight calculator and ask for the nearest vessel schedule. However, if your shipment is time-sensitive, you should be aware of possible delays.
Severe weather conditions are not the only reason for a possible delay in your shipping from the USA. Transit time in multimodal LCL international shipping depends on cargo and documents cutoff at CFS, trucking or rail traffic, hubs and seaports conjunctions, and many other factors that may impact the time of cargo transportation from the United States to the destination.
However, we should inform you about the possibility of delays associated with cargo quarantine by the United States Customs and Border Patrol. Such delays are extremely rare. However, if the U.S. CBP flagged a container for the examination, then the delay may take uncertain time. Unless released by the U.S. CBP, cargo cannot be loaded on a vessel. Furthermore, additional charges, due to the exam may occur. The charges should be equally divided into all owners of the cargo in the checked container. No one can help you with that. All complaints should be directed to the U.S. Customs and Border Patrol.

6. DESTINATION CHARGES
As long as you are in international trade, you should be aware that any importing goods, regardless of the commodity, mode of transportation, and country of destination, are subject to destination charges.
Destination charges are NOT included in the price quotes received in the online freight calculator. Destination charges (sometimes called local charges) occur at the destinations. Therefore they are not considered freight charges.
Even though entrepreneurs worldwide should be aware of and prepare for destination charges, to avoid confusion, we remind our customers about the charges through all the processes of initiating every single shipment. At the time of booking, shippers must agree with this statement: 'I understand that Destination charges are payable by consignee...'. Otherwise, shipments cannot be initiated. You may find more about destination charges in the step-by-step guide in step 7.
As soon as goods exit the U.S. Commerce zone, U.S. laws do not apply to internationally shipping cargo. Cargo recovery in destination countries and all charges associated with the recovery are on account of the consignee. Neither U.S. freight forwarder nor ocean freight carrier can help you to manage your import recovery overseas.
However, in LCL freight, unlike in FCL, there is an ocean freight carrier's destination agent assigned to meet a container loaded with consolidated cargo, take the container off the container yard, de-consolidate the cargo and keep it in bond at a CFS or transfer to a place of delivery as in your bill of lading. Typically, the argent is a customs broker, as well. The agent should guide your consignee in import recovery procedures. Obviously, the agent charges your consignee for the job.
Even though you'd have a customs broker on your staff, you'll have to initiate the recovery of your importing good with the ocean freight carrier's agent. There is no other way in LCL.
Upon receipt of a quote in our online freight calculator, they may ask us about the contact information of the prospective carrier's destination agent. Having the information, you may contact the agent and get the information directly from overseas. However, without a quote or booking reference number, we will not be able to see your shipment's routing. Before requesting an ocean freight carrier's agent contact information, you have to obtain a quote or booking reference number on our website.
Keep in mind that a part of or all destination charges may be required to be paid at a port of entree, but not at the place of delivery you are shipping goods. Depending on the destination country's customs regulations, all or a part of destination charges may need to be paid at the port of entree. Then cargo will continue traveling to the freight terminal at the place of delivery as in your bill of lading cleared with customs. Otherwise, shipping goods can be transferred to the final destination in bond and required to be cleared with customs at a bonded freight terminal located within the place of delivery area.
Also, keep in mind that sometimes, destination charges may be divided by separate invoices related to particular parties involved in import recovery.
If, for any reason, you will experience difficulties in the recovery of your order at the destination, then we'd suggest:
If your consignee is not contacted by the carrier's destination agent on/in a few days before your cargo ETA (Estimated day of Arrival), do not wait. Contact them first. The agent's contact information is in your bill of lading.

Request a legal Arrival Notice. Your Arrival Notice must be dated, contain the destination agent's letterhead, and destination charges breakdown. Phone calls or random emails are not enough.

Follow the agent's instructions. Pay destination charges (sometimes called Local Charges), and receive your released goods.

If you experience difficulties in the recovery of order at the destination, you may contact us. However, if you do not provide a copy of your legal arrival notice, we will not be able to work with the ocean freight carrier on your behalf. We will always need a copy of your legal arrival notice.
Import recoveries are time-sensitive. As quickly you begin working on it, as less probably you will face deadline penalties: storage, demurrage, Customs penalties, etc.
7. Door deliveries at destinations.
You should be aware that with LCL, there is no 'door delivery' service included in the freight. Orders will be shipped to a freight terminal located within the greater city area of the place of delivery assigned in your bill of lading.
If you cannot or don't want to send a pickup truck for your order, then most of ocean freight carrier's destination agents and freight terminals offer delivery services for an additional cost. Then, you will be able to order a 'door delivery' and pay for the service at the destination directly to them.
8. 75% deposit. The actual shipping cost most likely will differ from the estimated shipping cost quoted.
With us, to initiate an international shipment, you have to pre-pay at least 75% of the estimated shipping cost calculated based on weight/measurements (w/m) information provided by you in your quote and booking.
When you're quoting and booking your LCL shipment, you may not be aware of the exact dimensions, weight, and the number of your international order. That's fine. Just roughly estimate.
Upon delivery of your order to the ocean freight carrier's shipping terminal (CFS), the CFS will re-measure and reconfirm the actual number of your shipped units, the overall volume, and weight. You should read this step-by-step guide, as well.
Also, you should expect our final invoice, less the deposit already paid, not upon arrival of your cargo to the destination, but at the time when your cargo will depart from the USA. In other words, we will invoice you at the time when your sea freight bill of lading will be generated. Occasionally, as far as we receive a rated proof copy of your bill of lading before the departure, we may invoice you upon the proof.
Your invoice will be based on the actual w/m of cargo you have shipped, but not on the estimated shipping cost calculated at the time of quoting and booking. The invoice may also reflect unaccounted cost from the carrier not included in the initial booking (if any), such as palletizing, fumigation, GRI that occurred during the shipment, etc. You'll pay for what you actually have shipped, but not that you had estimated to be shipped. If you have overestimated your w/m, then you pay less or receive a refund. If you have underestimated your w/m, you pay more. That's why we request a 75% deposit, but 100%.
9. Do not confuse LCL service with parcel services. The minimum charge of one cubic meter. Destination charges.
When considering shipping orders LCL, keep in mind that LCL freight service is designed for shipping relatively large cargo. In LCL, there is always a minimum charge of one cubic meter. In other words, if you ship a cargo of a total volume less than one cubic meter, you will be charged for the price of sipping of the volume of one cubic meter anyway. Certain destinations may have minimums of two or three cubic meters.

When you calculate a shipping cost in our online price calculator, if the total cargo volume does not exceed the minimum charge on one cubic meter, the price does not change. As soon as the volume of your order exceeds the minimum, the price begins to change.

Also, there are always destination charges in LCL freight shipping.

If you ship small orders that fit parcel services, then using FedEx, DHL, Amazon shipping, etc., should be more convenient and cost-effective for you. LCL becomes cost-effective if you ship sizable and heavy items.