What is LCL freight?
Use the online LCL freight calculator above to get instant shipping costs for exporting goods from the United States overseas.
You may ask, "What is LCL freight? Why should I consider shipping goods from the USA abroad using LCL shipping services?"
Regarding international cargo transportation, LCL is an abbreviation used in sea freight for shipping from the USA
less than container load
. In other words, LCL means shipping from the U.S. consolidated cargo. LCL freight is typically used for shipping from the USA of relatively sizeable cargo, but when the cargo volume is not enough to fill an entire
40-foot container
. With LCL, a shipper shares a sea freight container with other shippers. LCL shippers significantly reduce transportation costs and are not obligated to load and secure cargo in containers.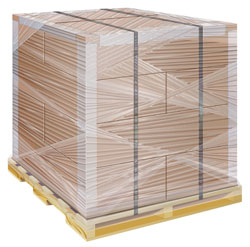 LCL freight can be used for shipping commercial cargo from the USA as well as for transporting
household goods and personal effects
from the United States instead of hiring international moving companies.
Customers who consider shipping goods from the USA abroad frequently ask, "What are the advantages and disadvantages of shipping LCL?" We are not going to discuss all modes of international cargo transportation. Let's talk about sea freight.
If you consider an LCL shipment, your first question should be, "Is my cargo too small or too big for LCL?"
I. LCL should be appropriate for cargo exceeding its 0.2-0.3
cubic meters
volume. If you're shipping small boxes from the USA, you should consider a parcel service like USPS, FedEx, DHL, etc.
We'd suggest watching this video on YouTube to visualize a shipping volume when calculating in cubic meters.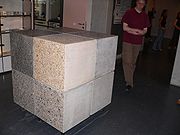 This picture lets you know how many small and large shipping boxes can fit into just one cubic meter.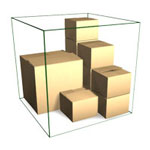 Running ahead, here is the answer to the frequently asked question, "How much do you charge for shipping a kilo or lbs?"
The answer is: In LCL, freight rates for regular cargo are self-delivered to ocean freight carriers' terminals (professionally called container freight stations or CFS). The weight of the load is not a pricing factor but just the overall volume of shipping goods. LCL freight rates are calculated per cubic meter or cubic foot, not by kilograms or lbs. In other words, with LCL, you can usually disregard the weight of your cargo. However, there is always a minimum charge. Typically, the minimum payment is equal to the shipping cost of a load of volume of one cubic meter (or about 35 cubic feet).
II. Conversely, if your shipment is large and can fill an entire 20 or 40-foot container, you should consider
FCL freight
(full container load). When shipping FCL, always remember that with FCL, shippers are always held responsible for loading and securing cargo in containers. Unless you are a professional in container loading, shipping cargo volumes of about 20-25 cubic meters should still be suitable for shipping with LCL.
Also, remember that shipping from the USA by FCL is heavily restricted at each stage of the transportation by steamship lines. From the beginning to the end. With FCL, the shipper is responsible for container pickup at a container yard, the proper container load, and timely container return to the yard in the United States. Pickup, delivery, unloading of the container at the destination, and timely return of the empty container. Ignoring any restriction may result in significant penalties from steamship lines.
Now, let's see how shipping cargo from the USA using LCL freight benefits international shippers.
LCL is a cost-effective way to ship. If your international shipment fits LCL, it significantly reduces the shipping cost compared to other international cargo transportation modes.
If you ship goods from the United States in boxes, crates, or pallets in a sea freight container and share the container with other exporters, you pay only for the container's space, not the entire container. It is definitely much less expensive than shipping a whole container.

Since cargo vessels are not limited by cargo weight but by the volume capacity of ships, then, as already mentioned above, for general commodities, freight rates are calculated by the overall volume of cargo, not by the weight. In other words, with LCL freight, most of the time, you may ignore the weight of the cargo. In LCL, freight rates are typically based on volume in cubic meters or cubic feet.

With LCL shipping, you may save on domestic cargo transportation. With LCL, you can self-deliver your cargo packed into shipping boxes, crates, or pallets to an ocean freight carrier's terminal (CFS). All your shipping stuff may easily fit into a rented or your own truck. In this case, you will eliminate all the expenses related to cargo delivery to the CFS. The cargo transportation costs within the United States are pretty high. Sometimes, if you order a pickup in your international shipping, the cost of your cargo delivery to a CFS may even exceed the price of the ocean freight in your total shipping cost.
Shipping freight LCL is the more convenient and flexible way to ship cargo from the U.S. than other international cargo transportation modes.
When you deliver your loose shipping boxes to an ocean freight carrier terminal (CFS), you can ask the CFS to

properly palletize

and shrink-wrap all or a part of your cargo into one or more skids. Palletizing your boxes at the CFS will make your goods safe for international shipping.

Handling small shipping boxes during cargo delivery is much more convenient than dealing with heavy pallets.

You may request the CFS to palletize small boxes and ask to ship more significant items loose. By separating large shipping units from pallets, you can decrease your shipping cost by minimizing and adding chargeable volume related to palletizing.

If your cargo fits into a 40-foot sea freight container with LCL, you can ship boxes, crates, and pallets of any size and form. If you're shipping from the U.S. an LCL freight, then pay attention to the internal dimensions of a standard 40-foot dry sea freight container, which are:

Length - 39'5" = 12 meters
Width - 7'5" = 2.35 meters
Height - 7'10" = 2.39 meters


If you will be involved in international cargo transportation, you must consider restrictions on wood-packing materials, commonly known as

ISPM15 rules

.

Shipping cargo in cardboard boxes complies with the ISPM15 regulations

. Then, you can pack and ship your goods in cardboard boxes purchased at Walmart, U-Haul, Office Depot, etc. You may shop around for heavy-duty cardboard shipping boxes to add extra protection to your cargo. In international cargo shipping from the USA, heavy-duty cardboard boxes are recommended but not absolutely necessary. You will palletize your shipping boxes on ISPM15-certified or plastic pallets for safe shipping overseas.

If you deliver your loose cardboard boxes for international shipping to a CFS, the CFS should properly palletize and shrink-wrap the boxes for the fee of $35-50 per pallet, including the cost of certified pallets. Use this opportunity. Do not palletize boxes by yourself. Just deliver the easy-transporting boxes to the CFS and leave the palletizing to professionals. In addition to the fact that loose boxes are much easier to deliver, the most important thing is that

you're taking off all responsibility for ISPM15 compliance

and transferring the commitment to the CFS. Your cargo should then not face any problems related to ISPM15 during the shipping from the USA to the destination. Suppose you're shipping goods to Oceania, mainly shipping to Australia or New Zealand. In that case, you must read about these

cargo fumigation

requirements that apply to shipping from the USA to Australia and New Zealand.
However, there are restrictions on shipping cargo LCL. Some conditions apply to shipping any freight, regardless of the mode of international cargo transportation. Some are related mainly to international shipping from the USA overseas when using LCL service. Here are the most common restrictions that international LCL shippers should be aware of:
Avoid shipping any food products, wine, or drugs abroad from the USA abroad. Shipping any food products from the United States, including wine, liquors or pharmaceuticals, edible animal byproducts, supplements, etc., are subject to special regulations in the USA and destination countries. Violations of such rules may result in cargo detention, confiscation, or cargo destruction. Besides that, it may lead to fines and even criminal charges. The consigners and consignees are responsible for providing proper documentation, permits, etc. All incurred costs are on account of the consigner and consignee.

To simplify it, when packing your goods to shipping from the U.S. overseas, avoid shipping any items considered dangerous or prohibited when you send a parcel to your local USPS office. Just stay away from shipping abroad:
Perishable food products and alcohol

Live animals, plants, and seeds

Any medicines and drugs

Dangerous and Hazardous Goods are restricted and subject to approval and special procedures.

Aerosols and liquids

Cash, Money orders, credit and debit cards

Passports and other confidential documents

Valuable jewelry, art, and antique

Weapons of all kinds

Sipping Dangerous

and Hazardous goods is restricted, subject to approval and special procedures.
If you pack in used boxes, erase all former shipping labels and marks, especially if it relates to dangerous goods or hazardous materials.

With LCL, you cannot ship motor vehicles requiring DMV registration.

We're continuously reviewing inquiries for shipping different kinds of motor vehicles from the USA by LCL. Unfortunately, any motorized vehicle requiring DMV (U.S. Department of Motor Vehicles) registration, such as automobiles, motorcycles, mopeds, ATVs, jet skis, etc., are not permitted to ship from the USA with LCL freight. This is because the United States Customs does not recognize ocean freight carriers' terminals (CFS) as exam sites for motor vehicle inspection.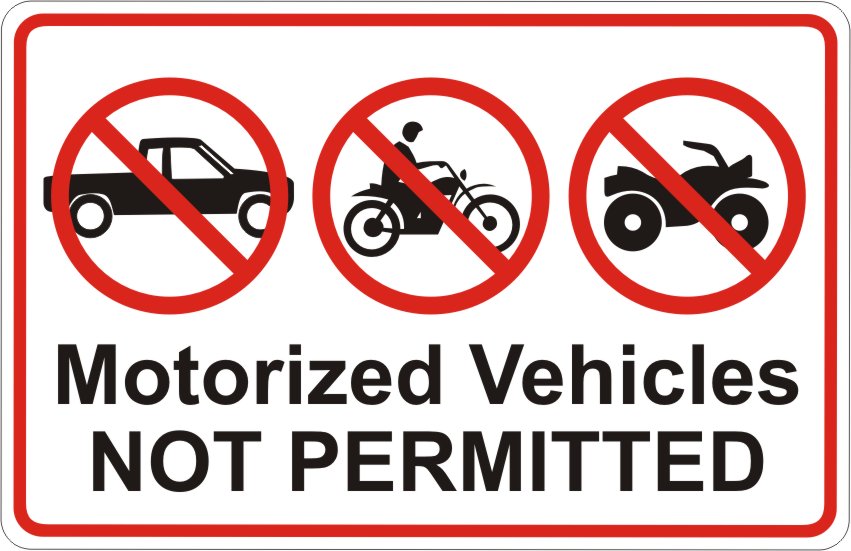 If you would like to ship a motorized vehicle from the States overseas by sea, you should consider exporting the vehicle in a 20 or 40-foot container (FCL) or RO-RO, but LCL.
However, you can pack and ship any vehicle that does not require DMV registration, like mini choppers, snowmobiles, golf carts, self-propelled wheelchairs, specialized construction and special mobile equipment, forklifts, etc. Always check with the DMV before you ship any vehicle from the USA overseas, regardless of the mode of international cargo transportation.
Fortunately, any legal motor parts are permitted for shipping from the USA using LCL. The typical exception is exporting used tires from the USA.

If you ship from the U.S., motor parts containing fluids (such as engines, gas tanks, etc.) must be completely drained. Large and heavy pieces must be crated or securely attached to pallets.

Remember, if your international shipment contains a battery (even a dry battery), the entire load may be considered dangerous goods. Additional documents related to dangerous goods shipping must be provided, and hazardous surcharges will apply. Transportation of dangerous goods must be approved when booking. The shipper should know additional requirements and charges before the cargo is scheduled for international shipping from the United States.