With this Online Freight Calculator, you instantly estimate shipping costs to ship from U.S. goods packed in boxes, crates, or pallets.
It doesn't matter whether you are in international trade, E-commerce, or shipping from the USA household or personal goods. With this U.S. online freight calculator, you can quote, book, and ship goods from the United States in the convenience of your office or home, virtually from any place in the world.
Click on the picture to watch a three-minute video on YouTube about how to get instant price quotes on shipping goods from the USA LCL with this online freight calculator.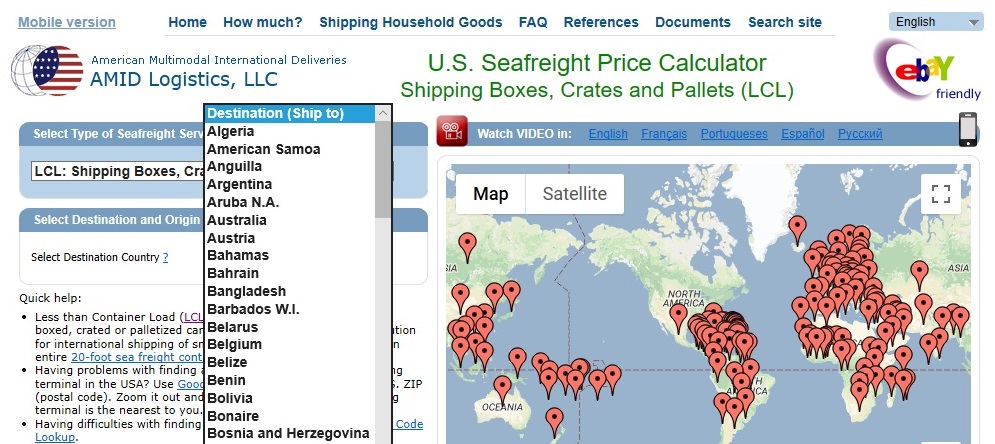 Quick help:
Need to find the nearest freight terminal in the USA? Firstly select your destination country and city. Then filter by the U.S. States and see the list. Use the Google map to determine the distance. Need to find a U.S. ZIP Code? Use the USPS ZIP Code Lookup.
Do you need us to pick up (collect) cargo at the location? When quoting, select a pickup option. Then, in the final step, type a ZIP Code of your cargo location and get a price quote, including the pickup option.
Keep in mind that the cheapest way to ship ocean freight from the USA is to self-deliver packed shipping goods to an ocean freight carrier's terminal (professionally called CFS - Container Freight Station). Such freight terminals in the online freight calculator are highlighted and in upper case - for example,

ATLANTA, GA

.
What is LCL freight shipping? Why should you consider LCL freight an ECONOMY FREIGHT SERVICE?
In respect of ocean freight from the USA, LCL is the abbreviation for the 'Less than Container Load.' In shipping goods from the USA, LCL means shipping cargo packed in boxes, crates, and pallets that cannot fill an entire 20 or 40-foot container. I.e., if you do not need and do not want to pay for shipping from the USA a whole container as you do with FCL (Full Container Load), then shipping cargo LCL is the most cost-effective way for shipping goods in boxes, crates, and pallets from the USA overseas.
If you ship from the USA commercial goods, and you shipping cargo in boxes, crates, or pallets, and the total volume is considerably small, i.e., it does not exceed 15-20 cubic meters (500-800 cubic feet), then there are many benefits for shipping freight LCL instead of shipping from the USA entire containers.
If you ship from the USA Household Goods or Personal Effects in boxes, crates, or pallets, then there are many benefits to shipping LCL sea freight instead of using the service offered by international moving companies. However, to avoid possible confusion, inexperienced, first-time international shippers should read about shipping household goods from the USA overseas using LCL Vs. moving with an international moving company.
Shipping a relatively small cargo LCL, compared with air freight, FCL, or parcel services, is definitely the cheapest way to ship goods from the USA overseas. Along with the convenience and flexibility, LCL is the most affordable mode of cargo transportation. Therefore you should consider LCL shipping from the United States as economy shipping.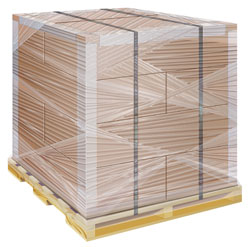 If shipping goods in boxes, crates, or on pallets from the United States overseas, then shipping cargo LCL sharply decreases the cost of transportation:
If you share a 40-foot ocean freight container with other shippers, then YOU PAY ONLY FOR THE SPACE USED IN THE CONTAINER, BUT NOT FOR THE ENTIRE CONTAINER. In other words, if your cargo is relatively small, it is obviously the best way to ship compared to international shipping FCL freight (Full Container Load).


Since cargo vessels' capacity, in fact, is not limited by the weight of cargo, not by the volume of ships, then typically, international LCL freight rates are calculated by the volume of cargo in cubic meters or cubic feet but not by the weight of cargo. So, in general, WEIGHT IN LCL FREIGHT IS NOT A PRICING FACTOR, but the shipping cargo's overall volume. You may find more about dimensional weight in cargo transportation on this website.


If shipping freight LCL, then YOU MAY SAVE ON INLAND CARGO TRANSPORTATION. If you self-deliver shipping boxes that can easily fit into your own or rental truck to the nearest to your shipping freight terminal, then you can eliminate inland trucking expenses and decrease your total shipping cost. Domestic inland cargo transportation in the USA is considerably high. Sometimes, U.S. domestic cargo transportation costs may even exceed ocean freight's cost in the overall price of international cargo transportation. Self-deliver your cargo and save on total shipping costs from the USA overseas.

Please note that in international cargo transportation from the USA, the term 'Ocean Freight' means shipping goods between ocean freight carriers' freight terminals in countries of origin and destination. OCEAN FREIGHT DOES NOT INCLUDE THE COSTS OF TRUCKING AT ORIGIN AND DESTINATION AND IMPORT RECOVERY CHARGES AT

DESTINATIONS

.

It is flexible:
If you self-deliver your cargo in loose boxes to a shipping freight terminal, then the shipping freight terminal can palletize your boxes into one or more skids. Let the terminal palletize your boxes.

IT IS MUCH EASIER TO HANDLE SMALL AND LIGHT SHIPPING BOXES THAN DEAL WITH HEAVY, OVERSIZED PALLETS

. Besides the convenience, palletized cargo is much safer during shipping. You may palletize smaller shipping boxes and leave bigger units loose. Then you can eliminate extra volume charges in your shipping cost.


With LCL freight, YOU CAN SHIP BOXES, CRATES, AND PALLETS OF ANY SIZE as long as they fit into a 40-foot multimodal sea freight container with internal dimensions as follows:

Length - 39'5" = 12 meters
Width - 7'5" = 2.35 meters
Height - 7'10" = 2.39 meters


Shipping cargo from the USA that is packed in cardboard boxes complies with ISPM 15 regulations. You can purchase cardboard shipping boxes at U-Haul, Walmart, Office Depot, etc. Then you will palletize your cardboard shipping boxes on certified or plastic pallets.

If you self-deliver your loose cardboard shipping boxes to an ocean freight shipping terminal (CFS), then the shipping freight terminal should properly palletize and shrink-wrap your shipping boxes for international shipping from the USA. The palletizing fee varies from $35 to $50+ per pallet, depending on the freight terminal. Use this opportunity. Unless you are a professional in international cargo transportation, do not palletize shipping boxes on your own. Leave the palletizing to professionals at CFS. Besides that, loose shipping boxes are much easier to handle during the transformation. You TRANSFER RESPONSIBILITIES ON COMPLIANCE WITH ISPM 15 TO THE SHIPPING FREIGHT TERMINAL (CFS). After that, your cargo should not face any problems related to ISPM 15 during the international transformation from the United States overseas.